dihydroquercetin (DHA) relates to antioxidants (bioflavonoids): natural origin. Dihydroquercetin obtained from Siberian larch.
ACT DHA: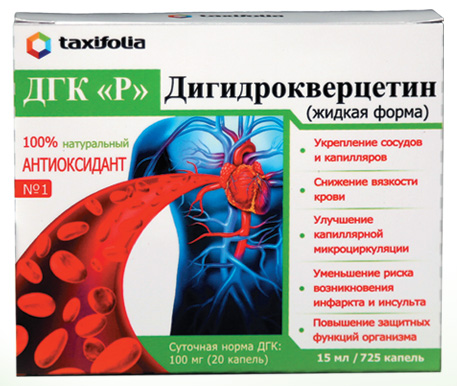 - Strengthens the walls of blood vessels
- Reduces capillary fragility
- Reduces blood viscosity
- Improves microcirculation
- Normalizes cholesterol
- Prepryatstvuet atherosclerosis
- Reduces the risk of heart attack and stroke
- Reduces the chance of diabetes
- Inhibits the premature aging of cells
- Promotes skin rejuvenation
- Inhibits inflammation
- Normalizes metabolism at the cellular level
- Improves physical and mental performance
- It has a detoxifying effect, protecting the liver from hepatotropic poisons
- Increases the body's protective function
- Promotes faster recovery after surgeries, illnesses, during rehabilitation
- Removes the visual fatigue (asthenopia zritelnuyuyu: the feeling of "fatigue" vision, blurred vision, blurred vision)
Vessels and capillaries, penetrating all our organs and tissues, deliver to each body cell all the nutrients and oxygen necessary for it. If there is a violation of capillary blood flow, the cells starve - suffer from a lack of oxygen and nutrients, as a result of which ischemia, hypertension, stroke and heart attack die and come. Dihydroquercetin reduces the viscosity of the blood, contributes to the strength and elasticity of blood vessels and capillaries, normalizes the permeability of the vascular wall. Dihydroquercetin restores microcirculation, due to which the tissues "come alive".
As a substance having a high degree of biological activity, Dihydroquercetin has a whole range of positive effects on metabolic reactions and the dynamics of the various pathological processes:
- Cardioprotective effect: Improves coronary blood flow and myocardial contractility, promotes normalization of excitability and conduction in the myocardium, reduces the risk of myocardial infarction. In patients with unstable angina (as part of complex therapy) there is a decrease and disappearance of signs of myocardial ischemia, restoration of the heart rhythm. The inclusion of Dihydroquercetin in the complex therapy of arterial hypertension and cardiac arrhythmias increases the effectiveness of treatment. - It is recommended for cardiovascular diseases: (coronary heart disease, angina pectoris, heart failure, rhythm disturbances, hypertension, rehabilitation after suffering and stroke or myocardial infarction); Prevention of vascular atherosclerosis, myocardial infarction and stroke;
- Kapillyaroprotektornoy, angioprotective and lipid-lowering effect: strengthens the walls of blood vessels and capillaries and protects vessel walls from injury, normalizes vascular permeability, reduces the viscosity of the blood, restores microcirculation, reduces blood clots, normalizes cholesterol and triglycerides in the blood and prevents the development of atherosclerosis.
- Antioxidant and radioprotective effects: neutralizes and removes from the body of free radicals and prevents their damaging effect; inhibits premature aging of cells and the development of various diseases; reducing adverse effects on the body of chemo- and radiotherapy. Dihydroquercetin is a reference antioxidant.
- Neuroprotective effect: has a positive effect on the nervous system, it stimulates the nervous processes. Recommended for diseases of the nervous system (Parkinson's disease, Alzheimer's, multiple sclerosis, etc. raseyanny.).
- Anti-inflammatory, anti-edema and anti-allergic effect: inhibits inflammation, reduces swelling in inflammation exhibits antihistamine activity; reduces the severity of bronchial obstruction, prevents exacerbation of chronic respiratory diseases.
- Hepatoprotective and detoxification deistvie: protecting a liver cells from destruction by viruses and toxic substances
- Immunomodulatory effect: It helps maintain the immune system, has antiviral deysviё
- Membrane-protective action: prevent lipid peroxidation and destruction of cell membranes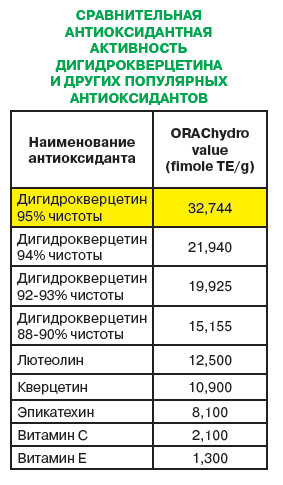 To purchase Digidrokvartsetina contact the Kiev Center fungoterapii, Bioregulation and Ayurveda.